Hi there!!  If you are stopping by via Pinterest or from another link, thanks so much for coming!  And, while you're at it, take a look around...there's lots of fun stuff to see! 
Last week was cold.  This week is not.  Last week the site of little bare piggy toes made me shiver a bit just looking at them, so I made some slippers...
I started with fleece and scrapped that for some upcycled sweater sleeves.  I put the little feet in the sleeves to measure and snipped across the sleeves.
Sorry, but that is the extent of the pictures I have while making the slippers.  There might have been more but the slippers were being made in the midst of watching and important football game... 
Then I hand sewed up the opening where I cut them from the sweater and used the cuff for around the ankle.  The striped pair needed a bit of elastic to keep them on so I folded the top toward the inside and sewed a channel big enough for a piece of 1" elastic to feed through.  For the bottoms I trace little feet and the cut out felt to match the foot templates.  I put the slippers on Violet's feet and carefully pinned the felt onto the bottom of the slippers and then hand sewed the felt onto the bottom with some embroidery floss.  I added two little patches of leather on the bottom with some glue to ensure they wouldn't be too slippery.

So, I guess we can say that the slippers were partly successful and partly not.  They are cute and keep those little toes warm and cozy.  The part that was not successful...Henry's aren't finished yet because he refused to put them on long enough for me to partially pin the felt in place.  That is just his 20 month old independent little self screaming out right?!  The other part...While Violet does really like her slippers she is more often inclined to put on her ballet shoes to strut around...A bit excited for her first ballet class next week I guess!! 
I do miss that stripey sweater though...hmmm...maybe a cowl pour moi?!
********Update:  Violet has been wearing her slippers all the time these past few days, yay!  Which, of course, caused Henry to want his, yay!  So, I finished Henry's up.  Violet was calling them his duck slippers, for some reason...so I thought they need a little beak.  I got lazy and didn't put on the eyes, I still think they are cute, and Henry proudly wears his now, just like his sister.  
But oh my, if I thought having him sit still for a second to quickly pin the felt on was hard...taking pictures of his feet was even more difficult!!
And, linking up here again...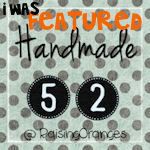 I'm doing well so far ;)