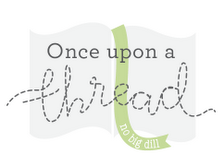 I am SO excited to be joining Katy for her Once Upon a Thread series over at No Big Dill today!!! 
I'm sharing one of our favorite books:  "Duck & Goose" by Tad Hills.
Head on over and check it out.  I had so much fun putting it all together!  Psstt, I heard a rumor that there is going to be a giveaway too!  
Want more Once Upon a Thread?  Check out my Little House pillow tutorial   and the Once Upon a Thread Flickr group!